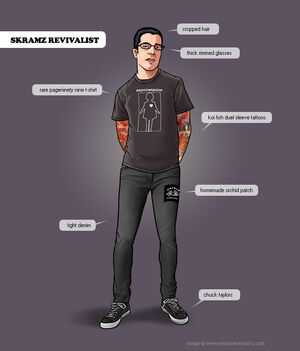 Welcome to the Skramz Wiki
Edit
If you're here, one of the following applies:
You're a person who loves La Dispute , especially "Such Small Hands", and are looking for similar artists
You love Underoath and Bring Me the Horizon and heard that another name for screamo is skramz
You were searching for the rapper and ended up here by accident
You mashed your face on the keyboard and "skramz" was put into the search bar
You know what skramz is and are looking for new music
You really have no idea
Your name is D.J. Coonradt and the first two bullets apply to you somehow EXACTLY
To troll by adding popular metalcore bands
What the fuck is this?
Edit
The idea behind this site is to have a place where people can discover music and learn about bands that you won't find at your local Hot Topic or Warped Tour .
Use this site to find new bands, downloads of bands you already know, to let it be known that your band exists, or to do something when you're bored.
Anyone is welcome to add or edit any information, it's a community project, but please be mature and serious about it by making pages readable and not vandalizing.
If you see your band on here and wish the download links to be removed, let us know and we shall do so.
All music is available here: http://zippyshare.com/musicisdead
Files are not named for browsing, as it makes it easier to not have the files taken down. Refer to the files in the folders for guidence.
Latest activity
Edit