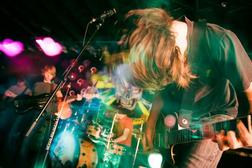 Savannah, Georgia, USA (2001 – present)
Circle Takes the Square (often abbreviated CTTS) is a band from Savannah, Georgia, USA. The band formed in 2001 as a four-piece and after their first two releases they lost a guitarist but gained another in late 2004. What listeners tend to notice first about the band is the loud screaming of both male and female vocals that often function in a kind of call and response. Skillful, chaotic drumming coupled with intense, highly technical bass/guitar work have served to separate the band from most others in the screamo genre. Highly diverse song structures (from meditative, droning intros to crushing choruses) have also assisted in carving their unique niche. The band completed a tour of the UK in mid-2004.
A digital EP, entitled Decompositions - Vol I, Chapter 1: Rites of Initiation, was released via the band's bandcamp page on the 23rd of August, 2011. The band is set to release long-awaited follow-up to As the Roots Undo (2004) in Novermber 2011, to be entitled Decompositions - Vol I.
Members:
Kathy Coppola - Bass, Vocals
Caleb Collins - drums
Drew Speziale - vocals, guitar
David Rabitor - guitar, backing vocals

Releases:
Selt Titled [2002]: http://www.mediafire.com/?t4a8hq3azeok8v6
As The Roots Undo [2004]: http://www.mediafire.com/?oylzijgajwjw0lh
Rites of Initiation [2011]:http://www.mediafire.com/?vvo0ocl40a135mf
Circle Takes the Square and pg.99 split: http://www.mediafire.com/?21zprsqh88ps2xe