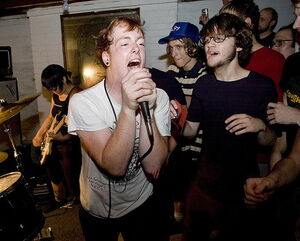 Ampere is an American hardcore band based in Amherst, Massachusetts known for their short (10-15 minutes) but extremely loud and intense live shows. The band has put the importance of DIY hardcore punk ethics at the forefront of their lyrics and are renowned for the particular attention they bring to their vegan principles.

The members of the bands have been involved in the DIY hardcore scene for a number of years with the most notable being guitarist Will Killingsworth, who played guitar in Orchid , Laceration and Bucket Full of Teeth and who continues to run his Clean Plate record label and Dead Air recording studio where the band records all of their music. Drummer Andy Skelly played drums in both The Last 40 Seconds and Wolves, Stephen's previous bands were Montcalm and The Last 40 Seconds; he currently also plays guitar in Aerosols and briefly ran Distort, an independent record store in Northampton, Massachusetts (May '06 - December '06). Meghan played bass in Stop The Clock and Unicoroner and sang in Relics.

Much like Orchid, Ampere (especially earlier albums such as "All Our Tomorrows End Today") often borrow some of their intense lyrics from philosophers and revolutionaries such as Guy Debord. They have preserved some of the "intellectual" punk seen in bands like Orchid, Sinaloa, Native Nod, Current, and others. While some view their lyrics as pretentious and obscure, Ampere has persisted in their belief that intellect and art make the best emotive hardcore.

The band actively tour in the US and recently completed a tour of Europe with Sinaloa in March 2006. A split record on Ebullition Records between the two bands was released in time for the tour, along with a 7" of their early recordings and a four-way split 11" with Death to Tyrants, Wasteland and Daniel Striped Tiger which was recorded live at Dead Air. Since then, a split 12" comprised completely of cover songs was released with Das Oath.

It has been announced that there is a split picture disc 7" with Daitro of France coming out on Clean Plate and purepainsugar records, a split 6" with Ringers on No Idea, and a split 9" with Funeral Diner on Electric Human Project.
Releases:
Ampere and Wolves split [2003]: http://www.mediafire.com/download.php?y7y2nizopwsr95x
Ampere and Welcome the Plague Year split [2005]: http://www.mediafire.com/download.php?4yyeavca435t9al
Ampere and Das Oath split [2006]:http://www.mediafire.com/download.php?jge87c6cx4hj5gi
Ampere and Sinola split [2006]: http://www.mediafire.com/download.php?44hpyk2nuulvs36
Ampere and Funeral Diner split [2007]: http://www.mediafire.com/download.php?tkg9fzut9m4jpa6
Ampere and Daïtro split [2007]:http://www.mediafire.com/download.php?xz3cppde36jdqav
The First Five Years [2007]: http://www.mediafire.com/download.php?djb8c14yf1cb40g
All Our Tommorows End Today: http://www.mediafire.com/download.php?2ic486ufbcisstd
Ampere and Ringers split: http://www.mediafire.com/download.php?7d7jgmfn7f27mkp