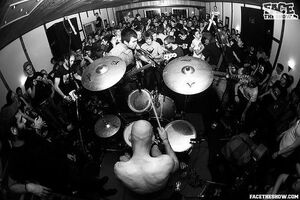 "Thus they continued to ask each other who called so loud, over and over again; and when Smike had that by heart Nicholas went to another sentence, and then to two at a time, and then to three, and so on, until at midnight poor Smike found to his unspeakable joy that he really began to remember something about the text."
Cast:
MB - "The Jittering Pulse" DM - "Rancorous Fountainhead" TH - "Slipshod and Garnished" FR - "The Antioch Delegate"
The plot:
From November of 2007 to September of 2008, four men attempted to tackle a treacherous terrain of American and European performance spaces littered with teenage pundits, genre disciples, the internet's collateral damage, and the few insistent on using the term "skramz."
Dynamodexter is lame and has no sense of humor…
To provide a more to-the-point summary for those trying to get a basic gist of information about this band, …Who Calls So Loud is essentially Funeral Diner 2.0. Think Funeral Diner's last LP, 'The Underdark,' add less keyboard and maybe a bit more clean guitar and you're pretty much getting there.
EP: http://www.mediafire.com/?2kzzd2hlyyi
S/t: http://www.mediafire.com/?3f5z6or1dqodxre
Editor's comments: This band is fantastic. While being a hardcore emo band they incorporate such askew genres as country, techno and even metal. My personal tie with them is that they were one of the first bands I have listened to of this nature. Definitely holds a lot of importance with my past, as these albums definitely helped me and have associated themselves with said things over the course of my life.
-Jeff Speciale (http://plecostomusofarock.tumblr.com/)